---- ----
0225 2156
0225 0105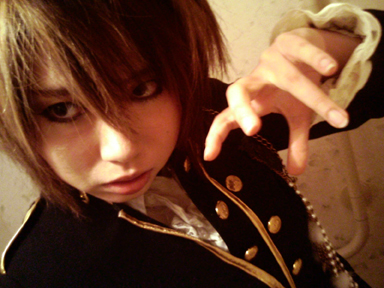 This is my friend "Micky"(Japanese girl).
She's an up and coming talent who is currently working as a voice actress/musician/etc.
She love Yaoi/BL very much.
She is aiming at improving the image of the Yaoi fan.
Some people feels strange about Yaoi fan.
She wants to clear up the misunderstanding and the prejudice about Yaoi fan.
She will act for all Yaoi fan!!!
A lot of her photos.
Visual系 photographs.

Various photographs
Her blog is
here
(Sorry!! it's Japanese only)
0224 0056
After the pen putting is done, the draft is erased with the eraser.
My arm becomes tired and becomes painful.
0223 2117
This is an illustration for the book on Japan.
It is a futuristic BL manga.
A man with the gold hair is an android's steward.
He deeply loves master (boy who put on red clothes).
The translation version can't come out in the United States, I introduce it here.
0223 1948
It is a character of the mystery Manga that I am drawing in Japan.
They are detective of twins.
0222 0034
I love red color.
Because,I feel red color give me energy.
(As for the dress, it likes black. )
0221 1048
Color's work...
It is completed a little more.
0216 1458
Do you know "Gotouchi Hello Kitty"?
"Hello kitty" is made by Sanrio company of Japan.
She often disguises many things.
In Japan,
There are a lot of "hello kitty" each place in Japan.
Some of them,very strange...
She is disguising fish on the box.
She is in the radish.
She is in the onion soup, wearing the onion hat. (Is she what?)
She is covered of bird's skin.
And,she has the chicken wings in her hands.
(why?)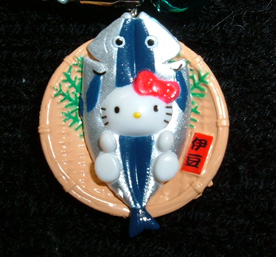 She is in the dry fish!
She is wearing the Houses of Parliament!!
0214 2210
I have many pocketbooks.
I don't know why,I collect them.
One of them,I use it for drawing the characters.
I draw the characters & detail.
Then,the image is swollen.
These are L' Etoile Solitaire's memo.
This is an image when Micah(seme) is young.
But,It is quite unrelated to this volume.
Only I wanted to draw.
0213 1215
I joined Myspace.
But I don't know how to use
Brog will be written here.
Let's find me on MySpace, and become Friend.
0212 2346
Valentine became near.
How do you celebrate in your country?
There is a custom of passing the chocolate to a favorite person in Japan.
0211 2235
He always on the FAX.(His name is Ryu.)
By the way,
Thank you for a lot of comments!!
I'm glad and happy to read them.
and I'd like to write answer of the comments little by little.
please wait for a moment.
0210 1928
It's very dark photo,sorry.
Occasionally, my cellular phone's camera take the dark photo.
I don't know why...
Micah has black hair and green's eye.
Assistant paint his hair.
0210 1918
It's rolling cat's house...
He asked to the house,"Who are you on the inside?"
(There are "Gin(black cat)" inside.
She is rolling inside their house. )
0207 1835
This blog's update is to late,sorry...
I'm busy in another Japan's work.
(Of course,I'm work in L' Etoile Solitaire too. I have 6 works now.)
I want two bodies!!
*private letter
To aoi_aka san.
This is photo of Docomo's advertisement.
0204 1150
Some assistant has a lot of template like a designer.
When the cup and the table are drawn, they are used.
0202 1658
.
I often listen to the music during work.
(But I never listen during making story.)
Mainly,Japanese pop music.
倖田來未(kumi koda),柴田淳(jun shibata),高橋瞳(hitomi takahashi),YUI,AAA,TM Revolution,宇多田ヒカル(Utada),スガシカオ(sugasikao),ポルノグラフィ(pornography)...
As for the music of the foreign country, I like female vocal.
Sarah brightman,Sarah McLachlan,Enya,...
But some beautiful music make me sleepy...
Please recommend if there is something
0201 2103
My pretty cat obstruct me...