---- ----
上記の広告は1ヶ月以上更新のないブログに表示されています。
新しい記事を書く事で広告が消せます。
0130 1726
This is character of Japanese cellular phone.
Their name is "docomodake".
They are family of mushroom.
I am collecting their goods.
0130 0142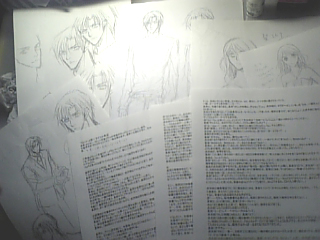 Some people might be want to draw Manga.
For them, I'll introduce how to draw Manga in my case.
This case, for Japanese (Manga)magazine.
The specification of the number of pages is about 35 Pages.
At first, I have to write story's composition(named plot).
and, I must make character's detail.
The purpose of all is to explain to the editor about my story.
I send FAX to editor after these documents are made.
And, it makes arrangements.
上記広告は1ヶ月以上更新のないブログに表示されています。新しい記事を書くことで広告を消せます。