---- ----
0131 2127
Eyes and hairs are delicately drawn with a thin penpoint.
By the way, The answer of the comment is written little by little.
It waits for a moment.
0130 1726
This is character of Japanese cellular phone.
Their name is "docomodake".
They are family of mushroom.
I am collecting their goods.
0130 0142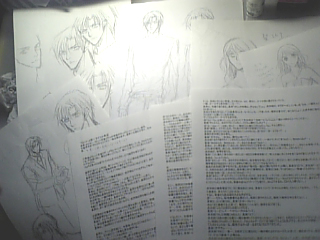 Some people might be want to draw Manga.
For them, I'll introduce how to draw Manga in my case.
This case, for Japanese (Manga)magazine.
The specification of the number of pages is about 35 Pages.
At first, I have to write story's composition(named plot).
and, I must make character's detail.
The purpose of all is to explain to the editor about my story.
I send FAX to editor after these documents are made.
And, it makes arrangements.
0128 1449
What do you say in English?
This is Fingernail Chip.
The Japanese nail artist has the internet shop, and I order her Fingernail Chip(It's her original design).
I love brilliant Fingernail!!
(about 1600YEN--3500YEN. It is not high so much.)
0128 1155
It's for color work.
By the way, If you want to see my picture more, you can find

here
.
I feel shame, because it is old picture(might be 2001-2005).
However, some pictures were drawn recently.
The genre is various(boy,girl,Yaoi?...etc)
0127 1123
She is another assistant, drawing the rich house.
(I am employing two assistants.)
0127 1118
When I color, "painter7" and "photshop6" are used.
0126 1043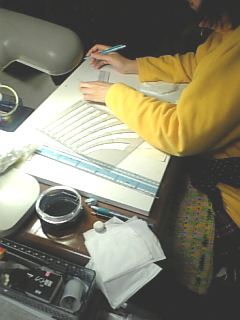 She is my assistant, and it paints scenes.
(except the character)
0126 1034
Rough sketch of color manuscript(genko),part of them.
0125 1446
A lot of characters!
0125 1139
Suit!!!
0125 1100
holiday's card from DMP staff
And, my cat. (Her name is "GIN = (銀/meaning is silver) ". )
0125 1040
It's a past picture.
0124 2319
for another story.(in Japan)
0124 2025
my desk
0123 2306
test...
my cat,"RYU(柳/meaning is Willow)"